Lubbesthorpe housing plan consultation is extended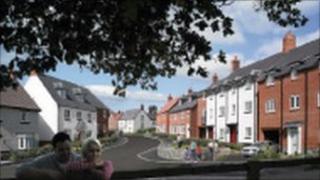 A consultation about plans for a new town in Leicestershire is being extended.
Developers want to build 4,250 homes and other services in and around Lubbesthorpe.
Blaby District Council began a six-week consultation in mid-March and sent 6,600 letters to nearby homes.
Now it has confirmed this will be extended by four weeks and an extra 1,400 letters will be sent to make sure all interested parties are involved.
Hallam Land Management, Barratt, David Wilson Homes and Davidson Developments submitted the planning application in February 2011.
The land proposed for development is off Beggars Lane and borders Leicester Forest East, Enderby and Braunstone Town.
Opponents have said the plan would destroy valuable farming land and increase pollution and traffic.
Paul Tebbitt, the council's senior planning policy officer, said: "After the first round of consultation we identified that there were additional residents that needed to be made aware of the proposals.
"We had feedback some of our residents and also elected councillors that we needed to consult a wider area."
He also emphasised anyone was allowed to give feedback about the scheme, not just those receiving letters.
The council has said it expects to make a decision on the scheme by the autumn.