Groby villagers buy 'traveller land'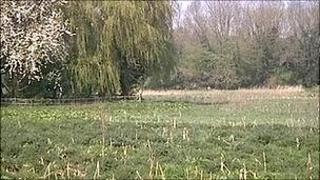 Land which had been at the centre of a dispute about travellers has been bought by residents in a Leicestershire village.
A committee raised £42,000 for the 4.1-acre plot in a matter of days by issuing 500 shares.
Villagers said the field had previously been left covered in litter after caravans had parked there.
The land, currently owned by the parish council, had been due to be auctioned this week.
'Breaking point'
Local resident Alistair Cooper, who led the bid to buy the land, said it was about "giving control back to the residents".
"It's not just about stopping the travellers - we want to have our say in future developments, whether that be traveller sites or new housing," he said.
"There isn't that much land around Groby and we've about reached breaking point."
Mr Cooper added that the future of the land would be decided by the people who had bought shares.
"It will be for the people who have put money in to decide what to do with the land - but it certainly will not be for building on," he said.
The sale was agreed by private treaty and contracts have been signed with the parish council, which also agreed to make up any shortfall in funds.
Residents will complete on the purchase on 11 May.