Hopes for tern birds to come to Watermead Country Park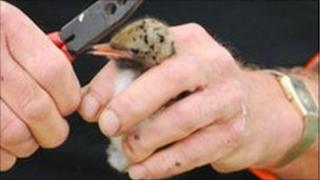 Plans are under way to bring a bird species back to Leicestershire.
The Leicestershire and Rutland Ornithological Society (LROS) and county council rangers want common terns to return to Watermead Country Park.
It is hoped that the terns will nest at the park over the spring and summer.
Jenny Charles, a county council ranger, said there had been a dramatic drop in the birds coming to Leicestershire.
"There's been a decline at Watermead," she said. "We were ringing in double figures over 10 young birds every year, whereas last year we didn't actually get to ring one young common tern.
"So in over five years that's been quite dramatic for us."