Leicestershire gas cloud prompts emergency calls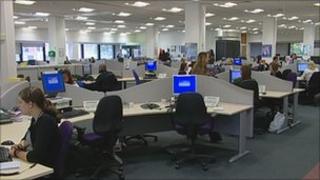 Experts are trying to trace the origin of a gas cloud which apparently drifted across Leicestershire, prompting more than 100 emergency calls.
National Grid's control centre in Hinckley said it dealt with a surge in people saying they could smell gas on Tuesday morning.
Network manager Bill Hewitt said industry or farming activity was the likely cause.
The cloud is believed to have since drifted west and dissipated.
Between 0600 BST and 0900 BST, the control centre received about 50% more emergency calls than it would normally deal with.
'Not harmful'
Mr Hewitt said there had been no detected leak of natural gas from the supply network in the area, and no suggestion that the cloud was harmful.
"Although this a rare event, we have had instances in the past where we've had gas clouds.
"Generally speaking, when we've looked at the root cause, it's been things like petrochemical plants taking the opportunity of the bank holiday to do some maintenance work, farmers doing some muck spreading in the fields or possibly airline fuel."
Mr Hewitt stressed that anyone who suspects a gas leak should call the National Grid's emergency helpline.