Archbishop Desmond Tutu given Leicester honorary degree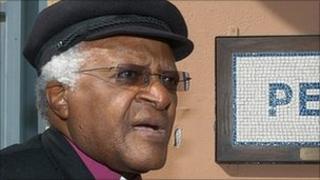 Archbishop Desmond Tutu is to be presented with an honorary degree from the University of Leicester.
The archbishop came to prominence for his work against apartheid in South Africa and later led its Truth and Reconciliation Commission.
The 79-year-old received the Nobel Peace Prize in 1984 but retired from public life last year.
He will receive the honorary degree of Doctor of Letters from the university in July.
"There can be no greater role model for our graduates from across the world than Archbishop Desmond Tutu," said the university's Vice-Chancellor Professor Sir Robert Burgess.
"His wisdom, courage and integrity are an inspiration to us all and we are delighted to confer the honorary degree of Doctor of Letters on such a great global figure."
As a result of his work at the head of the Truth and Reconciliation Commission, a body designed to examine human rights abuses in the apartheid era, Archbishop Tutu has been called on to help other governments and organisations, including in Northern Ireland.
He is already an honorary doctor of a number of leading universities in the USA, Britain and Germany.