Leicester City Council urged to clean up stained paving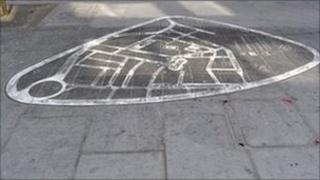 A trader has called on Leicester City Council to do more to clean up oil-stained pavements.
Simon Postlethwaite, who runs a restaurant on Halford Street, said: "There's not one slab that is clean."
The city council said its cleaning teams had tried to remove engine oil and other stains, and were looking at other ways to fix the problem.
Old paving stones were replaced with grey granite as part of a £19m refurbishment of the city centre.
The development of Leicester's cultural quarter aimed to revitalise the run-down area, which now offers entertainment venues, accommodation, and workspaces for artists, designers and businesses.
'Worse for wear'
Mr Postlethwaite said he hoped the stains would wash off or clear with the rain.
"There's not one slab that is clean or doesn't have chewing gum or a stain on it. The street cleaners are pretty regular, but it doesn't seem to be doing much," he said.
"I was very pleased when the council said they were looking to develop the area, but now things are starting to look a little worse for wear.
"Considering how much time and effort went into this and the expense, it seems to be money not very well spent."
In a statement, Leicester City Council said: "There are a number of stains which appear to be caused by engine oil, as well as grease and takeaway food. These have been made worse by the recent lack of rain which normally helps disperse them.
"Our cleaning teams have been out and tried to remove them, and will continue to do so.
"Longer term, we are also looking to bid for money for specialist cleaning contractors to carry out some one-off, more extensive cleaning."