A6 reopened after Loughborough warehouse fire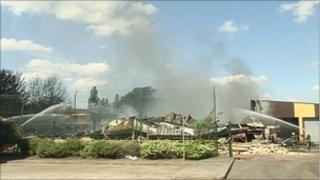 A major road in Leicestershire has reopened after being closed for almost two days following a fire at a recycling warehouse.
The fire at Jayplas recycling plant on Weldon Road in Loughborough, which contained 200 tonnes of plastic, broke out on Sunday night.
The A6 Derby Road was closed near the Warwick Way and Bishop Meadow Road area.
Investigations into the cause of the fire are ongoing.
Firefighters are expected to remain on site for several days.
Burning plastics at the warehouse made it difficult to reach the source of the fire and nearby residents were advised to keep windows and doors closed until Monday night.
No-one was injured in the fire, a spokesperson from Leicestershire Fire and Rescue said.