Elton John replica red piano on display in Leicester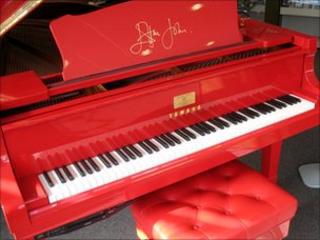 A red grand piano, a replica of one used by Sir Elton John, has gone on display at a Leicester music store.
The limited edition instrument, signed by the singer-songwriter, is not only one of 30 made in the world, but is the only one in the UK.
The director of Sheehan's of Leicester, Noel Sheehan, said "we hassled the music manufacturer to lend it to us".
The piano is for sale at £69,000 and a proportion of the proceeds will go the Elton John AIDS Foundation.
"It came about when Elton decided that a normal black piano would look a bit dull on stage at Caesars Palace in Las Vegas, where he is currently playing a number of scheduled concerts," Mr Sheehan said.
"A red piano was made for him and the idea of a limited edition series was born.
"We are very proud to be given the honour of having the piano."
The Elton John Signature Series Limited Edition Grand Piano has been fitted with an electronic system which allows music files to be downloaded and uploaded to it.
The world-renowned performer has recorded five of his songs on to the piano - Your Song, Tiny Dancer, Rocket Man, Take me to the Pilot, and Candle in the Wind.
"The piano actually plays itself, while Elton's songs are being played through its built-in speakers," Mr Sheehan said.
"However, the special grand piano can also be played in the traditional way."