Legal action over delays at St Luke's Hospital project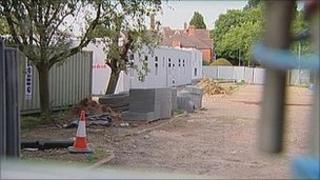 The NHS is taking legal action over delays to construction at a Leicestershire hospital.
NHS Leicestershire and Rutland said it wanted Modcon UK Ltd to fulfil its contract for the Day Case Unit at St Luke's Hospital in Market Harborough.
A series of prefabricated units arrived at the site earlier in May but work has recently halted.
Modcon UK Ltd, which has not commented on the situation, faces a 14-day deadline to rectify the situation.
A new hospital on the St Luke's site has been promised for more than a decade.
Earlier in the year the project was disrupted when the units, imported from the Middle East, were held at docks over apparent damage.
A spokesman for the NHS trust said they stood by a commitment to open the Day Case Unit as quickly as possible.
But they admitted the legal action would have an impact on the completion date for the project.
No further details of the legal action, or any financial claims, have been released.