Leicestershire farm shop reflects on beginnings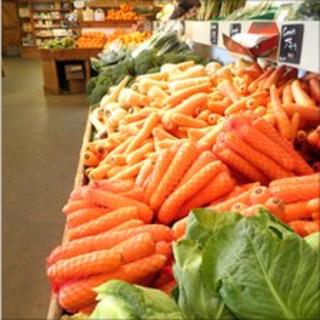 The owners of an award-winning farm shop in Leicestershire have been looking back at its humble beginnings as part of the BBC Domesday project.
In 1986 people from across the UK helped record a snapshot of their everyday life, for future generations to explore.
The data has now been collected onto an online archive, called Domesday Reloaded, which can be viewed and updated with new information.
Twenty-five years ago a Market Harborough contributor mentioned Farndon Fields Farm's plans to increase produce sales by converting their garage into a farm shop.
What started as little more than a table tennis table full of vegetables has grown to be a successful business, supported by 250 acres of farmland.
Local focus
By 1998 the popularity of their produce saw the farm open a purpose-built shop, followed by two further expansions in 2005 and 2007.
"We just started by put a sign at the side of road and as demand grew, we just grew more - organic growth, you would say," said owner Kevin Stokes.
The shop now stocks a variety of locally-sourced food, including meat, cheese and bread, and features a cafe and plant centre.
It continues to sell potatoes, vegetables and soft fruit which are grown and harvested on the farm.
In 2008, the business was named the UK's best farm shop by the National Farmers' Retail & Markets Association (FARMA).
Mr Stokes' wife Milly said work is soon to start on a further shop expansion: "I don't think it will stop here. We like to listen to what our customers want and bring in new things for customers.
"Part of our ethos is to grow and know where our foods come from. Food miles are very important and I think that sets us apart."