Rutland hippo sculptures sold at charity auction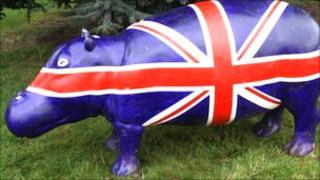 An auction of 10 brightly painted fibreglass hippos has raised more than £9,000 for charity in Rutland.
The sculptures appeared at locations across the county during 2010, as part of a project to increase awareness of the arts.
Organiser Joy Everitt said the auction had been a "fantastic success" marking "a fitting end to the hippo project".
The money raised by the sales will be donated to Arts for Rutland and the Army Benevolent Fund.
BBC Presenter Julia Bradbury and the Royal Artillery's Colonel Barry Jenkins hosted the event at George's Barracks in North Luffenham.
The Union Jack Hippo received the highest bid at £1,100 while The Italian Chef Hippo went to the winner of a £10 raffle draw, which raised £930.
A further three sculptures are set to be sold on an internet auction site.
The hippos were designed and painted by local artists, schoolchildren and business people.