Rutland adventurer celebrates birthday in Kazakhstan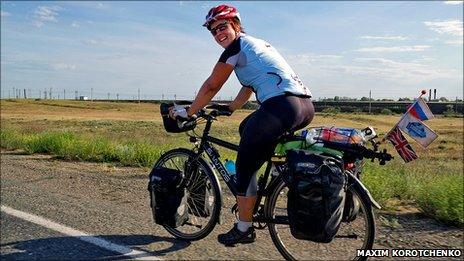 An adventurer from Rutland has been celebrating her 26th birthday by reaching Kazakhstan on her epic journey around the world.
Sarah Outen, who left the UK on 1 April, is aiming to travel the globe by using manpower alone - cycling, kayaking and rowing.
The 20,000-mile trip, 'London2London: via the World', is expected to take two-and-a-half years to complete.
Ms Outen is raising money for four charities during her expedition.
The challenge will take her across three continents and see her row solo across the North Pacific and North Atlantic Oceans.
On 26 May, she was 54 days into her journey and marked the occasion with some special birthday messages.
"I opened some cards, I'm so proud of myself because I've brought them from all the way from London without opening them," Ms Outen said.
"My mum's away on holiday at the moment, but she sent me a text message - that's really special."
Since leaving Tower Bridge in London, Ms Outen has crossed the English Channel and travelled through France, Belgium, Netherlands, Germany, Czech Republic, Poland, Ukraine and Russia before arriving in Kazakhstan.
She said the journey across the 10th country could take her about four weeks.
"I will pass the space station where Yuri Gagarin [the first man in space] landed and peddle through long roads, deserts and mountains," she said.
Michael, Ms Outen's brother, said they were "all immensely proud" of her and added "she's got nerves of steel and determination - quite amazing really."
Related Internet Links
The BBC is not responsible for the content of external sites.