Sir Peter Soulsby calls for change in bus law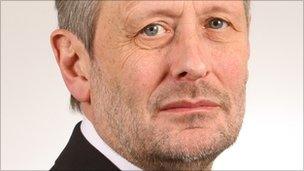 Leicester's mayor Sir Peter Soulsby is calling for a change in the law to allow him to take over control of the city's bus network.
Sir Peter, who is Leicester's first elected mayor, said he wanted to work directly with bus companies over fares and routes.
He added he did not just want bus companies running routes to be in competition with each other.
A number of private companies currently manage the city's bus services.
"People want a service taking them where they want to go, at a time they want to travel and at a fare they can afford," said Sir Peter.
"We don't just need bus companies running the same routes at the same time, which is incredibly wasteful but happens because of competition, we need the mayor to regulate the service," he said.
"Buses aren't just a business, they are also a public service. A very high proportion of people in Leicester are dependent on quality public transport and they do not get quality public transport."
In a statement, bus company Arriva said: "We are pleased that the new mayor wants to improve public transport in Leicester and we look forward to working with him to provide high quality, punctual and reliable bus services."
Both Arriva and First Leicester have made reductions to their timetables following Leicester City Council's budget cuts, which saw a £500,000 drop in subsidies for 2011/12, resulting in some routes being axed and others finishing at 1800 BST.
Related Internet Links
The BBC is not responsible for the content of external sites.