New home sought for dog after stabbing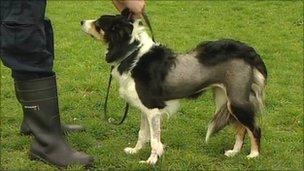 RSPCA workers in Leicester were left "horrified" by an attack on a dog which they said was the worse case of animal cruelty they had ever seen.
Bonnie the border collie was left to die after being stabbed 13 times.
Lisa Smith from Woodside Animal Centre said: "It absolutely sickened me when I saw her. How anybody could do this to an animal is just beyond me."
The centre now hope to rehome the five-year-old dog, who is recovering well following emergency surgery.
"Her scars have healed and they're doing really well," said Ms Smith.
"Mentally she's getting better, she's learning to trust people. She's enjoying coming out and playing."
Bonnie was found by a member of the public in a street on the Leicestershire and Northamptonshire border on 12 May, with stab wounds ranging from 5mm to 30mm wide.
RSPCA inspector Sue Haywood said: "We're still investigating who caused these injuries. No-one has been charged."
Related Internet Links
The BBC is not responsible for the content of external sites.