Anger over NHS Leicester baby treatment cost letter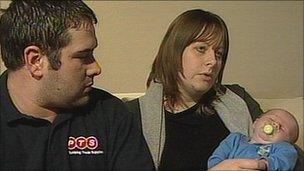 The NHS has apologised to a couple who got a letter about the cost of emergency care after their newborn baby was treated for a serious infection.
Leanne Cure and Steven Young took baby Zac to Leicester Royal Infirmary after finding a rash. He was in hospital for five days with blood infection.
Two weeks later a letter arrived from the local surgery telling them a visit to their GP would have been cheaper.
An NHS spokesman said the letter was "inappropriate".
Zac was just hours old on Good Friday when he became listless and his parents, who live in Newfoundpool, Leicester, spotted a persistent rash.
After consulting with their midwife, they took him to Accident and Emergency where he had three lumbar punctures to test for meningitis.
These came back negative but doctors treated Zac for blood infection and kept him in hospital for five days.
But soon after a letter, addressed to Zac, arrived from the Fosse Medical Centre to highlight visits to A&E were far more expensive than those to the GP.
It asked him to consider ringing the surgery first the next time he required treatment.
Mr Young said: "I was absolutely outraged. I just saw red straightaway.
"For a start they should check why people have gone to A&E - we couldn't take him to the doctors as it was Good Friday and everything was closed.
"They had two weeks to check what had happened and they didn't, they just sent the letter out. It is ridiculous."
Ms Cure added: "I was shocked. If I had made an appointment to see the GP, Zac might not have been here now.
"I was fuming, it was terrible, especially as they did not even know why we had taken him."
NHS Leicester City, on behalf of the Fosse Medical Centre, said: "The letter received by the family was inappropriate for their circumstances and we would like apologise for any distress.
"Such letters should not be sent to those using A&E outside normal surgery hours and we are working closely with the practice to make sure this is not repeated."
Related Internet Links
The BBC is not responsible for the content of external sites.