Feline parvovirus kills cats at Woodside Animal Centre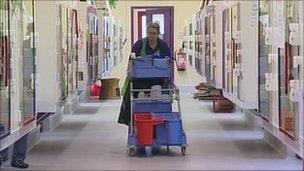 The outbreak of a virus has killed 25 kittens and six cats at an animal centre in Leicester.
The animals have died from feline parvovirus at the RSPCA Woodside Animal Centre in Scudamore Road.
Feline parvovirus causes vomiting, diarrhoea and dehydration and is highly contagious.
Staff are having to turn away owners bringing cats. Animals needing help are being sent to private catteries until the shelter gets the all-clear.
Assistant branch manager Jade Burton said the illness had spread quickly but had now been isolated.
She said: "We have cats that have sickness and diarrhoea one day and the next day we could have come in to make sure they're ok and they could have passed away.
"We're not re-homing any cats at the moment here from Woodside. What we plan to do is (with) any cats that need to come in to ourselves, we're actually using a private cattery at the moment, so that we can isolate the virus to here.
"It has a huge impact on the staff here because you come in every day, and you're not sure - obviously because it happens so quickly - what you're going to walk into."
The outbreak was confirmed at the centre in Leicester three weeks ago.
The RSPCA said it was now under control and has appealed for foster families to help look after any new cats coming into their care until the cattery was given the all-clear.
Related Internet Links
The BBC is not responsible for the content of external sites.