Launde Abbey celebrations mark end of renovation work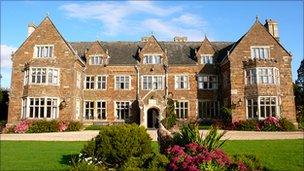 More than 1,000 people attended celebrations to mark the completion of an overhaul of a rare 16th Century church retreat in Leicestershire.
Launde Abbey was saved from closure after campaigners raised £1m of the £2.6m needed to bring it up to date.
The Bishop of Leicester was among the guests at a special service of celebration at the renovated Abbey.
On 25 January, Prince Charles officially re-opened the Diocesan Retreat Centre after its redevelopment.
The celebration event on Monday included food and craft stalls, and speakers John Bell of the Iona Community and Pam Rhoades of BBC Songs of Praise.
The Right Reverend Tim Stevens, Bishop of Leicester, said it was "wonderful to celebrate the new life" of Launde Abbey.
"We thank God for every single person who helped to save the building for the next generation, allowing so many more to enjoy the peace and tranquillity that our retreat house has to offer," he said.
Reverend Tim Blewett, warden at Launde Abbey, said: "It was a fantastic celebration of the abundance of God and generosity of so many people who gave to the 'Save Launde Appeal' financially, in prayer and in time.
"Their generosity allowed the project of restoration and conservation of the Abbey to be undertaken in 2010.
"The special service was a celebration of that appeal and work."
Mr Blewett added the building may be different but its purpose remained the same, "a place of prayer, of meeting and of transformation".
Related Internet Links
The BBC is not responsible for the content of external sites.