Father of Rutland drink-drive victim backs campaign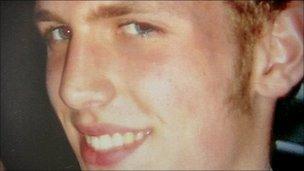 The father of a 17-year-old boy from Rutland who was killed by a drunk driver has backed a new campaign.
Michael Ellis hopes the Leicestershire Police initiative will highlight the seriousness of drink-driving and raise awareness about the consequences.
Sober and Motoring focuses on getting people to nominate designated drivers before a night out. Police will also be carrying out breath tests on motorists.
Mr Ellis said the death of Chris had been a "life sentence" for his family.
Chris was a passenger in the car of a friend who was twice the legal alcohol limit when he crashed.
"It has been a traumatic experience for all of us," Mr Ellis said.
"Chris's mother has never got over it - it's something we have to live with for the rest of our lives.
"Chris's friend had too much to drink, there was an excess of speed and his friend lost control of the car and hit a sign. Chris died at the scene."
As part of the campaign, designated drivers will be entitled to a free soft drink at participating bars in Leicester city centre.
They will be given a wristband when they show their car keys to bar staff.
Mr Ellis said he would like more bars and restaurant to take an active part in the campaign as he believed it was their "duty of care to their customers".
Police have warned there will be extra checks on drunk drivers over the summer.
Pc Dave Johnson, roads policing officer at Leicestershire Police, said: "We'll be doing random checks and if the drivers are found to be over the alcohol limit, they will be arrested and brought before the courts."
Related Internet Links
The BBC is not responsible for the content of external sites.