Burbage father rides miles to save Glenfield heart unit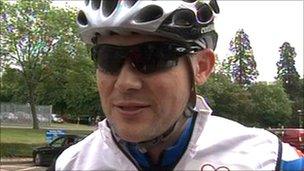 The father of a Leicestershire boy with a life-threatening heart condition has embarked on a 131-mile charity bike ride to raise awareness about a hospital unit threatened with closure.
Adam Tansey, whose son Albert received surgery at Glenfield Hospital, has teamed up with former Leicester Tiger Graham Rowntree for the challenge.
They have been stopping at hospitals that benefit from Glenfield.
A consultation on children's heart centres ends on 1 July.
The NHS national review is taking place amid concern among some that expertise is being spread thinly over too many units.
Mr Tansey from Burbage, who has set up the charity Keep the Beat, said it was "vital" for people to get involved in the public consultation to keep the service in Leicester.
"Albert would have died, he was very close probably within hours or possibly within minutes when he was only four-days-old because he was born with half a heart," he said.
Albert, now 20-months-old, has undergone three operations at the Leicester hospital.
"The catchment area of patients that Glenfield serves ranges from Sheffield right down to Northampton so what better than to ride the distance," Mr Tansey said.
"There were children from all of the places we visited that had been saved by the service and, unfortunately, there will be many more babies and children that will need the service in future."
If the centre is closed, parents from Leicester would have to travel to Birmingham or London for surgery.
Related Internet Links
The BBC is not responsible for the content of external sites.