Specialist cleaners scour Leicester's pavements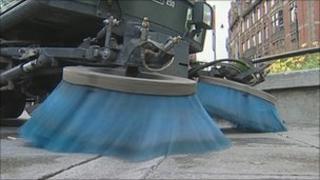 Specialist cleaning teams have started a project to remove chewing gum and grime from pavements in Leicester.
Leicester Mayor Sir Peter Soulsby said the city centre was "looking grimey" and needed "a thorough clean up".
Trader Simon Postlethwaite said the work was desperately needed. "There is not one slab that is clean or doesn't have a stain or chewing gum on it."
Granite slabs were installed in the city as part of a £19m refurbishment, but soon became stained, he said.
Mr Postlethwaite said: "Pavement outside my property had broken slabs… and I was pleased when the council said it was going to redevelop the area - but things are looking rather worse for wear."
He said street cleaners came regularly but it did not seem to make any difference as the slabs were "quite porous" and absorbed spills and stains.
Mayor Soulsby said the cleaning work will make a huge difference to the ability of the city to attract tourists and shoppers.