Zombie enthusiasts plan to 'attack' Leicester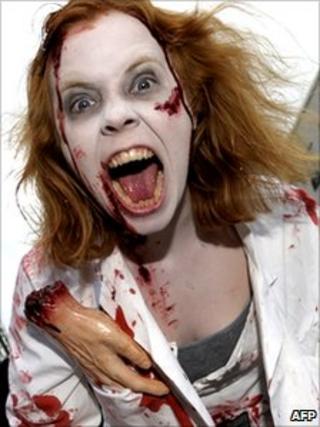 Zombie enthusiasts are planning to "attack" Leicester a week after the city council admitted it was unprepared for an invasion of the living dead.
James Dixon, 26, had the idea after a "concerned citizen" used a Freedom of Information request to ask how the council would tackle a zombie attack.
He said Saturday's event - organised on Facebook - was initially just a way to catch up with a few friends.
A small horde of almost 200 "zombies" is now expected to descend on the city.
The story that a member of the public had raised concerns about Leicester's "zombie readiness" became a hit on social networking sites.
The Freedom of Information request stated: "Having watched several films it is clear that preparation for such an event is poor and one that councils throughout the kingdom must prepare for."
'After-apocalypse party'
Mr Dixon said: "I saw the story trending on Twitter and thought it was really funny that someone had FOI'd that information, and that the council had taken in it a quite a good-humoured way.
"I jokingly tweeted that this is our chance to attack, which was quite well received."
Leicester City Council has not commented about how it will cope with the arrival of several dozen shuffling undead.
Its head of information governance Lynn Wyeth said last week that the original Freedom of Information [FOI] request had made them laugh.
"Everybody has their own interests and their own reasons for asking these questions," she said.
Mr Dixon said he had put some serious thought into the organisation of the event, which has a "strictly zombie" dress code and is likely to be followed by an "after-apocalypse" party.
"There's a pub that has offered the zombies refuge after our 'attack', so we'll probably do that," he said.