Leicester City Council considers more 20mph zones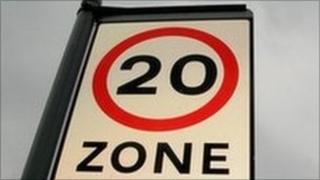 Leicester City Council is considering increasing the number of 20mph speed limit zones across the city.
Campaigners have been calling for a reduction in the speed limit in residential areas to help cut accidents and improve air quality.
The authority has studied a similar scheme in Portsmouth which has a 20mph speed limit on 95% of its roads.
Leicester first introduced the scheme in 1999, and now 8% of its roads have a 20mph limit.
Councillor Sarah Russell said: "It is something that we are actively considering at the moment.
"There have been plans in place to put in small-scale 20mph zones in different parts of the city.
"We're looking at the potential for doing it at a wider scale.
"Anything we can do to improve road safety we will look at."