Neglect contributed to Leicester woman's suicide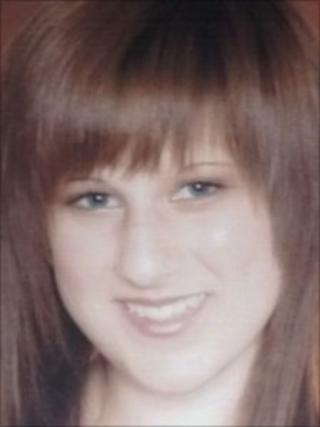 A coroner has ruled that neglect contributed to the death of a teenage mental health patient in Leicester.
Kirsty Brookes, 19, was found dead near Leicester's Glenfield Hospital, where she was being treated at the Bradgate Unit, in June 2010.
She had been sectioned under the Mental Health Act but managed to abscond and hanged herself.
Leicestershire Partnership NHS Trust said there had been a number of failings in Ms Brookes' care.
Leicester Coroner Catherine Mason heard Ms Brookes was able to climb over a fence to leave the psychiatric unit.
She ruled Ms Brookes took her own life in part because of the neglect of the Bradgate Unit.
Ms Mason heard what was meant to be a secure, fenced garden was easy to get out of and the police were not told as quickly as they should have been about Ms Brookes' disappearance.
The coroner said although lessons had been learned by the NHS trust, she remained concerned about staff shortages and would be writing to the organisation.
'Very upsetting'
Speaking on behalf of the trust, chief operating officer John Short said: "We recognise there were a number of failings in her care and treatment and, although we have actioned many of these already, we will be taking urgent action in relation to the coroner's concerns about our ability to increase staffing levels at short notice.
"We carried out a review of the care and treatment Kirsty received prior to her death, which highlighted both notable practice and areas for improvement, including the need to improve communication between the ward team and ensure patient records are completed to a higher standard.
"Although the unit is not a secure hospital, the safe management of entrance and exits both to the ward and the patient garden area is essential for safe and effective care," said Mr Short.
Ms Brookes' father Glynn said changes had to be made. "These failings need to be acted on to prevent this happening again.
"It is very upsetting to know that our daughter may well still be alive if certain procedures and protocols had been followed.".