Leicester NHS chief executive's 'no pay' warning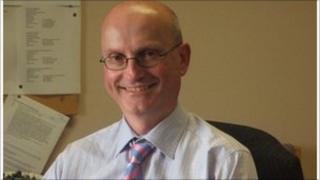 The chief executive of the University Hospitals of Leicester NHS Trust has sent an email to staff warning them of "catastrophic" money issues.
In Malcolm Lowe-Lauri's email, sent to senior managers but then circulated to staff, he said he was not sure if staff would be paid in coming months.
Barbara McKenna from union Unison said she did not believe this was the case but it had caused mass panic.
The trust said Mr Lowe-Lauri was unavailable for comment until Monday.
The trust also declined to comment until that time.
'Stunned' reactions
The email stated: "The overshoot on our Income and Expenditure account lies somewhere between £5m and £6m.
"This can only be described as catastrophic."
He went on to say: "There's a real issue about whether we will be able to pay our staff by August or September."
Ms McKenna said she could not believe the email had been sent. "I am stunned a chief executive would send a memo like that to senior managers," she said.
"It is nothing less than cruel. We are asking for urgent talks with managers. I think staff will be paid but I have had people on the phone in tears asking 'is my mortgage going to be paid in August?'. That's the kind of panic it has caused," said Ms McKenna.
Mr Lowe-Lauri's email ended with: "I am writing this because I want no-one to be under the illusion about where we are."
The University Hospitals of Leicester NHS Trust needs to make savings of £158m over the next five years due to government spending cuts.