New £5m Belgrave Health Centre opens in Leicester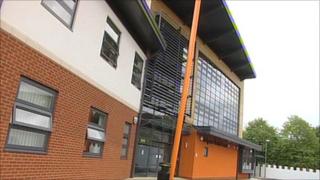 A new multi-million pound "one-stop" medical centre has opened in Leicester.
The £5m Belgrave Health Centre on Brandon Street has taken seven years of planning by the National Health Service (NHS) and campaigning by local people.
The centre aims to provide a range of services including midwifery and a diabetes and heart failure clinic, tailored to meet the community's needs.
The new centre replaces the Belgrave Medical Practice on Loughborough Road which closed last August.
Patients were using temporary, alternative surgeries in the area.
'Easier access'
Head of development for NHS Leicester City Andy Bevan said: "Traditionally health care has been delivered in Belgrave from converted residential accommodation.
"This has a number of issues in terms of the service they are able to deliver, the space available and access for disabled patients."
He said patients would have "easier access" not only to the building, which has three levels, but to NHS services in their area.
Belgrave community leaders felt the area needed better medical provisions.
"There are a number of documented health care issues in the area, diabetes being particularly a prevalent one," he added.
In one week, about 87 patients have registered at one of the medical centre's surgeries. It can cater for up to 29,000 people.