Leicester Royal Infirmary to open 'Star Trek sick bay'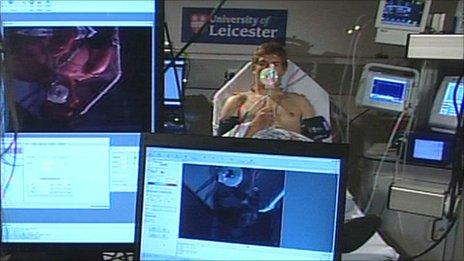 Leicester University has developed a £1m "Star Trek-style" medical suite to diagnose hospital patients.
Leicester Royal Infirmary hopes to use the "sick bay" in its Accident and Emergency department within two weeks.
University of Leicester scientists said the space-age technology would help assess patients more quickly.
Prof Paul Monks, who helped to develop the facility, said it would speed up the detection of illnesses including cancer, heart failure and infections.
The facility can analyse a patient's breath to diagnose diseases, avoiding the use of invasive techniques.
Prof Monks said of the facility: "We've shown that it can detect lung infection quite early."
Prof Tim Coats, a consultant at the hospital, said one group of instruments analysed the patient's breath while a second group used imaging systems and technologies, developed for exploring Mars, and the third looked inside the body and measured blood flow.
Prof Monks said the technology was pioneering.
He said in the long term, scientists wanted to develop the "ultimate non-invasive diagnostics", which Star Trek fans would recognise.
"Dr McCoy in Star Trek had a tricorder that he waved over the patients to help diagnose diseases," he said.
"The stage we're at is the medical bed in the sci-fi series, which it tells you how well you are."
The university and the infirmary have spent three years creating the sensory suite, which included transforming a normal hospital bed into a hi-tech piece of equipment.
"We're trying to reduce the number of blood tests - those time-consuming and uncomfortable procedures that patients would have to undertake," Prof Monks said.
"We want to free doctors to actually treat patients and this technology enhances that ability."
Related Internet Links
The BBC is not responsible for the content of external sites.