St Luke's Hospital in Market Harborough 'to be extended'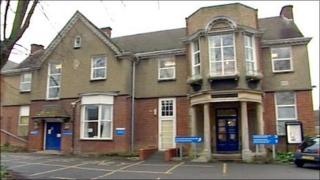 A hospital in Leicestershire is set to get a £6m extension after more than 20 years of campaigning.
After months of consultation, managers at St Luke's Hospital in Market Harborough unveiled plans to provide cardiology and paediatric services.
The deal to build the centre has not been signed, but NHS managers said they were confident of success.
It is hoped the new services at the hospital will be open by 2014.
In 2007, a scheme to replace St Luke's with a new £30m hospital collapsed through a lack of money.
Memorial 'preserved'
Dr Dave Briggs, chairman of the the GP-led commissioning group for East Leicestershire and Rutland, said he was pleased they were able to "progress with the development".
"We're very close to coming to a deal, we should have the money shortly to go ahead," he said.
The BBC understands Leicestershire County and Rutland Primary Care Trust's budget for buildings and another unnamed NHS organisation could fund the multi-million pound building project.
Dr Briggs said the town's District Hospital would be sold to provide some of the capital for the new construction, but the hospital's war memorial would be "preserved and protected".
"The current outpatient activity, which occurs at the District, would be moving to the St Luke's site," he said. "Moving to one site has got a lot of benefits for the patients."
Residents living in the area have welcomed the idea of a new extension to the existing St Luke's Hospital.
People can share their views at a public meeting in Market Harborough on 5 October.