Clawson Stilton Gold cheese attracts stars' interest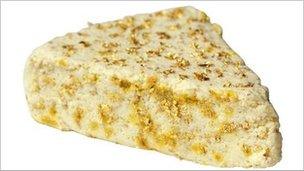 A Leicestershire cheesemaker has produced a new Stilton for Christmas, made with real gold and costing £60 per 100g.
The Stilton, made at Long Clawson Dairy, is shot-through with edible gold leaf and gold liqueur.
Bosses said they had received a number of inquiries about the cheese, including phone calls from an oil sheikh and a pop star.
Clawson Stilton Gold is about 67 times more expensive than standard Stilton.
Janice Breedon, a spokeswoman for Long Clawson Dairy, said: "For confidentiality reasons I can't publicly identify the people who have inquired about our Clawson Stilton Gold but, suffice to say, they are all very well known.
"We wanted to create something special, a unique Stilton cheese, for the Christmas market, just a limited run to hopefully get more people interested in Stilton.
"It's Britain's blingiest cheese but, judging by the inquiries we've had, I'd say most of it will be leaving the country."
Long Clawson Dairy is one of six sites allowed to make Stilton, the production of which is protected under European law.
The dairy produces 6,700 tonnes of cheese in 60 varieties every year.