Leicester racecourse steeplechasing may be cancelled again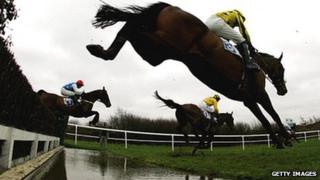 Steeplechasing at Leicester Racecourse could be cancelled for the second week because the ground is too hard due to low rainfall, the clerk has said.
Jimmy Stephenson said there had not been enough moisture in the chase course to provide a "safe jumping ground" for the horses or the jockeys.
He said hurdles would have to be set up again on the flat course if there was not plenty of rain before Sunday.
The clerk of the course added that it had been the driest year so far.
'Unsafe jumping'
Mr Stephenson hoped that he was not forced, for another week, to cancel all the steeplechase meetings at the racecourse like last weekend, which he said was unprecedented.
"The moisture levels on the chase course are again not safe to provide safe jumping ground for the horses," he said.
"It could to be an all hurdle course again, which are smaller obstacles, set up on the flat course and that ground has been irrigated all summer so it's softer."
He said the racecourse has a licence from the Environmental Agency to irrigate the flat course between 1 April to 1 November.
The preferred condition of the ground is described as "good to firm", when the racing surface is neither too hard, nor too soft and slushy.
A hard ground means that the race will be faster, but could compromise the safety of both horse and jockey.
'Incredibly dry spring'
He said in previous years, the average amount of rainfall around the area had been between 28 to 30 inches, but this year he recorded 14 inches of rain.
"I've been here 17 years and we've had dry periods before, we've had warm summers before, but we've never had prolonged dry weather as this," Mr Stephenson said.
"This has gone on since January and February. We had a extremely cold winter, but the snow didn't add up to much moisture and we had an incredibly dry spring."
Racing pundit Kevin 'The Colonel' Minter said: "Chase racegoers are a totally different breed to flat racegoers, they do like to see the steeple race fences.
"It's a shame that there won't be the steeplechase fences, but the horse will still have obstacles to jump even though there'll be hurdles."