Leicestershire farmer puts down sheep after dog attack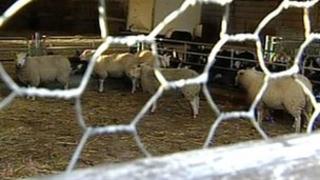 A Leicestershire farmer has said he had to put nine of his sheep down after the flock were attacked by dogs.
Graeme Matravers, owner of Manor Farm in Long Whatton, said six more of his sheep had also been severely injured on his land in Nanpantan and they may not all survive.
He said the loss would cost him up to £3,000, and have an impact on breeding programmes and next year's stock.
Leicestershire Police have asked anyone with information to contact them.
'Horrific injuries'
Mr Matravers said the flock were attacked sometime between 16:00 GMT on Monday and 10:30 GMT the following morning.
The sheep were taken to a vet, where some received treatment to their wounds and others had to be put down.
"The sheep's head injuries were so horrific that the only option was to have the vet put them down," Mr Matravers said.
He said that it was the fourth attack on his sheep this year, compared with one in his 17 years of farming in the area. Mr Matravers added the latest attack was the worst yet.
Investigating officer PC Andrew Bell said the sheep attack, at the farm near Loughborough, was "very serious and distressing".
"This is not only very upsetting for the farmer, but he has also lost the income that his sheep would have provided," he said.
"We would remind all dog walkers that they commit an offence if they allow their dog to worry livestock and not have their dog on a lead or under close control."
Mr Matravers has warned dog owners to be more responsible or gamekeepers patrolling his land would now shoot dogs worrying or attacking his sheep.