Madeleine McCann: Police hold talks in Spain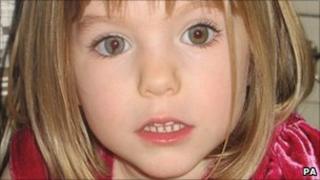 Scotland Yard detectives have held talks with colleagues in Spain as part of their review of the Madeleine McCann case.
Officers spent three days in Barcelona last month discussing Madeleine's disappearance across the border in Portugal.
The Metropolitan Police said there would be no limits in its re-examination of the search.
The trip follows a police visit to Portugal earlier in August.
Madeleine, from Rothley in Leicestershire, went missing from her family's holiday flat in Praia da Luz in the Algarve on 3 May 2007.
Scotland Yard said the visit to Spain, like those to Portugal , was about building relationships with police in foreign jurisdictions involved in the Madeleine McCann case.
A team of 30 officers from Scotland Yard are working on the investigation.
Hundreds of possible sightings have been reported around the world since she disappeared, but so far they have all come to nothing.