Leicestershire blood clot widower considers legal action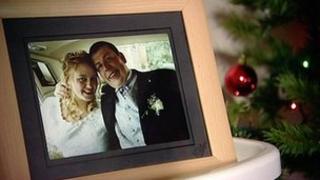 A Leicestershire widower has said he is considering legal action over the death of his wife after a blood clot was missed by health professionals.
Alison Taylor, 29, from Syston, died in March 2010 despite visits to her GP and hospital, Rutland and North Leicestershire Coroner's Court heard.
Recording a narrative verdict, the coroner said she died from a pulmonary embolism after a deep vein thrombosis.
Darren Taylor's solicitor said an NHS inquiry was "too little, too late".
Mrs Taylor died 16 days after giving birth to her third child.
After complaining to midwives, she was sent to Leicester Royal Infirmary (LRI) but no ultrasound scan was available at weekends.
Cramp diagnosed
Giving evidence at the inquest, which ended on Thursday, the doctor who saw her admitted he did not understand the hospital's own guidelines and now knew that he should have done a blood test even if he had suspected that it was not deep vein thrombosis.
Mrs Taylor also visited her GP on the morning of her death but was told the pain was most likely cramp.
The court in Loughborough also heard LRI had changed some weekend practices and refreshed staff training.
Speaking outside court, the family's solicitor issued a statement: "An investigation has been carried out by the primary care trust and the hospital trust and recommendations have been made.
"But for Mr Taylor and his three children, it is too little, too late."
A spokesman for University Hospitals of Leicester NHS Trust said: "We would like to express our most sincere condolences to Mrs Taylor's family for their truly tragic loss.
"Following our own investigation after Mrs Taylor's death we have already taken action and made changes to improve the way a potential blood clot is assessed in maternity including seven-day-a-week access to an ultrasound scan of the leg.
"Of course we realise this will not even begin to comfort Mrs Taylor's family and friends, our thoughts remain with them."