Bone marrow match for police inspector Rik Basra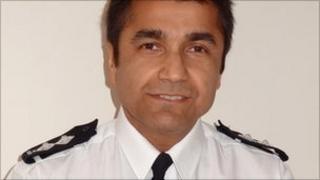 A bone marrow donor has been found for a Leicestershire police officer who is seriously ill with leukaemia.
Inspector Rik Basra, who spent several months on a waiting list, is expected to have a bone marrow transplant within a few days.
Several events were held in the past few months to raise awareness of the need for bone marrow donors.
More than 750 people attended donor sessions at Leicester's Diwali events and at the Guru Tegh Bahadur Gurdwara.
Mr Basra's wife Kas said: "We cannot believe this miracle. We have all prayed and worked so hard for this moment and can't believe it is happening."
"This is the greatest Christmas present we could have ever wished for.
"I would like to personally thank everyone, including the charity Anthony Nolan, for the overwhelming support we have received throughout this anxious time."