Pensioner's two-hour wait for ambulance prompts apology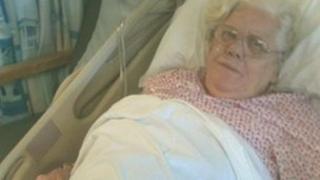 An ambulance service has apologised to an 87-year-old Leicestershire woman after she was kept waiting for nearly two hours after breaking her hip.
Elsie Hubbard, who lives in Wymeswold, broke her hip when she fell in her garden a week ago.
She was found lying outside her house by family friend John Straw who called 999.
East Midlands Ambulance Service (EMAS) said it was sorry for the distress caused to Mrs Hubbard and her family.
'Absolutely disgraceful'
The ambulance service said the delay had been caused because it had been busy dealing with immediately life-threatening incidents on the day.
EMAS said a paramedic had arrived to treat Mrs Hubbard after 53 minutes, with an ambulance sent within another 20 minutes.
Mrs Hubbard, who said her treatment at the Queen's Medical Centre in Nottingham had been "fantastic", said she was "disgusted" to have been kept waiting for so long for an ambulance.
"You don't treat animals like that," she said.
Mr Straw said it had taken an hour for a paramedic to arrive and two hours before an ambulance crew attended to Mrs Hubbard.
He said: "It is absolutely disgraceful, this is an 87-year-old woman who is vulnerable at the best of times, lying in the cold and in a huge amount of pain."