Council leader Robert Blunt court case dropped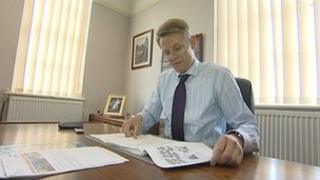 A legal bid to oust a Leicestershire district council leader because he does not live in his ward has been dropped.
Independent candidate Colin Roberts said North West Leicestershire District Council leader Richard Blunt was not eligible to run in the 2011 election.
Mr Roberts said he was withdrawing his High Court case due to escalating costs and uncertainty over legal principles.
Mr Blunt is also a member of the cabinet at Leicestershire County Council.
Mr Roberts claimed that Mr Blunt was not eligible to run for the seat because he does not live, work or occupy a property in the ward.
The councillor has always been open about the fact he does not live in the constituency he represents.
Mr Blunt, who won the election with 604 votes with Mr Roberts second on 302 votes, lives at Clifton Hall, near Lichfield, in Staffordshire.