University of Leicester gets £2.4m for green cities research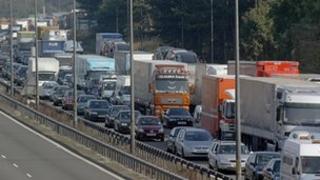 The University of Leicester has been given £2.4m to lead a new project to find ways of reducing traffic emissions in European towns and cities.
The three-year research programme, funded by the European Commission, will see the university working with experts from across the continent.
It aims to use the latest space and information technology to find greener ways of managing traffic.
Experts said they hope the research could influence policy making.
The project will involve scientists, engineers and development agencies from four other areas - the Molise region in Italy, the Midi-Pyrenees and Aquataine regions in France, and the Mazovia region of Poland.
'Essential research'
The EC funding will see the University of Leicester and Leicester City Council sharing responsibility for the project.
Experts from Leicester's De Montfort University and the University of Nottingham will also be involved.
Rory Palmer, deputy mayor of Leicester, said: "Making Leicester a low-carbon city is one of our main priorities and this kind of research will be essential to helping tackle issues around congestion and air quality in the future."
Prof Alan Wells, scientific leader of the project, said: "We can now co-ordinate different research activities in the same general areas of traffic and the environment that are being carried out by partners from across Europe.
"These sorts of outcomes have never been brought together in this way before.
"The scientific teams at the heart of the project will be working closely with the bodies responsible for managing traffic, transport and air quality in the UK and European regions to explore how this research can be of value to them."