Donor found for leukaemia sufferer Bethany Mickleburgh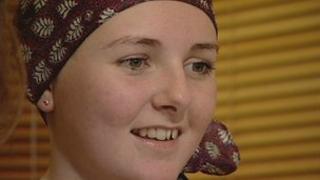 A bone marrow donor has been found for a Leicester teenager who is seriously ill with leukaemia.
Bethany Mickleburgh has the disease for a third time and needs a transplant operation.
The 14-year-old, who was first diagnosed with leukaemia as a toddler, has been told that a match has been found for her in Germany.
She will now begin treatment and is expected to have a transplant some time in February.
Bethany recently attended an event organised by The Anthony Nolan Trust in Leicester to help recruit more potential donors from the UK.
She has also received a letter from David Cameron after she wrote to him asking for more to be done to encourage people to register.