David Parsons probed over travel expenses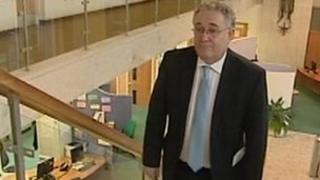 The leader of Leicestershire County Council built up debts of £5,400 on his travel expenses, an investigation has found.
David Parsons has been accused of not promptly repaying money that he owed for trips to Europe.
A report by the county council found debts were built up in 2007 and said he was "most likely receiving a positive personal cash flow".
Mr Parsons has denied wrongdoing and said all the debts have now been paid.
The probe was triggered by a whistleblower who sent a series of letters to the council's chief executive.
The allegations are over expenses claims for travelling to and from Brussels as part of his role on the Committee of Regions, a group which comments on EU policy and legislation.
The train or flight tickets would mostly be booked by East Midlands Councils (EMC), which Mr Parsons is chairman of, and he would claim back the cost of travel from the Committee of Regions.
'Very unfair'
An internal audit by the county council found that between September 2010 and October 2011 nothing was repaid to EMC despite four letters being issued.
The report said "as a senior public representative with a high profile, there is a significant reputational risk that he could personally be viewed as receiving favour, and that he was not properly or promptly repaying costs".
Mr Parsons accepted that the debt had built up but denied wrongdoing.
He said he had now put a new system in place to prevent any financial risk to EMC but also to prevent risk to his personal reputation.
The council leader said: "It's very unfair, everything I've done is legal."
This report will go before the corporate governance committee at the county council on Monday.
A county council spokesman said: "The county council is East Midlands Councils' accountable body for financial issues.
"The role of the corporate governance committee is to ensure that proper process has been followed with regard to financial matters.
"In accordance with our usual practice, we cannot comment further at this stage, to avoid prejudicing consideration of this issue."