Hinckley United Reform Church windows vandalised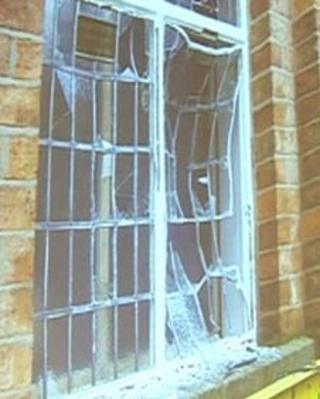 Vandals have attacked a Leicestershire church causing damage which could cost thousands of pounds to repair.
The Reverend Malcolm Clarke, minister at Hinckley United Reform Church, said two large "historic inscribed" windows had been completely smashed.
The minister said he was shocked and saddened by the attack and claimed it was the first crime against the church since it was built in 1868.
"I feel sad and let down," Mr Clarke said.
He added; "As far as I'm aware this kind of damage has not been caused to the building since I've been here since 1973.
"Two historic windows were completely kicked in and how it happened I don't know, because they're quite high up and not at ground level.
"It looks as though someone took a hammer to it."
The broken windows have now been replaced with temporary glass for safety and security reasons.
The minister added that he was thinking about putting up protective metal grilles to stop any possible future attacks, but hoped it was the last of its kind.