Internet drug theory over Leicestershire deaths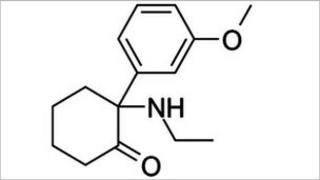 The deaths of two people in Leicestershire may have been due to a drug purchased on the internet, police have revealed.
A woman, 59, was found at a Leicester address on Saturday and a 32-year-old man in Melton Mowbray on Sunday.
Detectives say the deaths are not suspicious, but have confirmed one line of inquiry is the use of the drug methoxetamine.
Anyone who has bought the drug on the internet is being urged not to take it.
Det Insp Rob Widdowson, of Leicestershire Police, said: "We are investigating the circumstances leading to the deaths of these two people in order to prepare files for the coroner.
"One of our lines of inquiry is that prior to their deaths both people may have taken a drug known medically as methoxetamine which... may have been purchased over the internet."
Methoxetamine has similar effects to the banned drug ketamine.
A police spokesman said it is believed both of them had thought they were taking another drug known as MCAT.
He added that police were warning "anyone who has obtained this or similar substances not to take it and to contact the police or other health professionals".
Anyone with information about the circulation of the drug in Leicestershire is being asked to contact police.
Amendment 13 February: This story has been amended to clarify details about the drug methoxetamine following updated information from Leicestershire Police.