Rare Martian meteorite on show at National Space Centre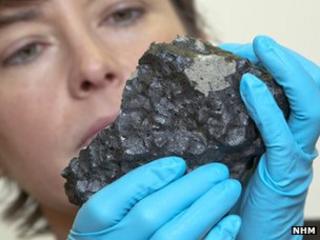 Several rocks which have fallen to Earth from space, including the Tissint Martian meteorite, have gone on display at Leicester's National Space Centre.
The centre monitors the Solar System and advises the government on any risk from "near-Earth objects".
Meteorites from the moon and an asteroid called Vesta are also on show.
The 1kg (2.2lb) piece of the Tissint rock landed in Morocco in July and is thought to be the most important meteorite to have fallen in 100 years.
'Source of evidence'
Sophie Allen, education officer at the space centre, said there were three main meteorites in the exhibition they would be analysing.
"They are actually a chunk of the moon,that's been blown off in an impact, a big asteroid called Vesta, which is of particular interest to us at the moment, and a piece of the most recently discovered Tissint meteorite from Mars," she said.
"It's our job to keep an eye on these things, to monitor if there are any threats and to alert the public and the government if there are."
Ms Allen said the billion-year-old meteorite from Vesta was a "rich source of evidence about the asteroid".
She added that scientists would be sharing their knowledge about the various rocks at the space centre.
'Incredibly rare'
The Natural History Museum in London had acquired the Tissint meteorite from an anonymous benefactor.
Dr Caroline Smith, meteorite curator at the museum, said: "Arguably this is the most important meteorite to have fallen in 100 years. It is as if it has just been blasted off Mars.
"Martian meteorites are incredibly rare, and when they have been seen to fall and recovered quickly, like Tissint, they offer a unique insight into the Red Planet."
Researchers hope its geochemistry will provide insights into past conditions on Mars and the possibility that it may once have hosted life.
Just 61 out of the 41,000 meteorites known to science have fallen from Mars.
About 150 lunar meteorites have been discovered on Earth so far, most of which were blasted off the moon's surface within the last 100,000 years.