Cataract pioneer Sir Harold Ridley to be honoured with plaque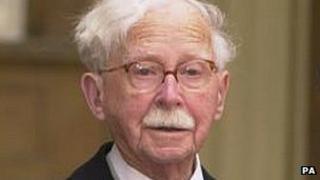 A scientist whose work on cataract surgery has saved the sight of more than 200 million people worldwide is to receive a plaque in Leicestershire.
Sir Harold Ridley, who died in 2001, helped develop the eye-saving operation 60 years ago.
He used an artificial lens made of Perspex to replace those in eyes which became clouded by cataracts.
A commemorative plaque in his honour is due to be installed at his birthplace on Leicester Road in Kibworth Harcourt.
Mr Ridley developed the groundbreaking operation in 1949 while treating fighter pilots whose eyes had been damaged during World War II.
He said his idea was initially resisted by the medical establishment, which was fearful of the risks involved with trialling new surgery on people's eyes.
However, he insisted on finding a manufacturer to produce the artificial lenses and the surgery was slowly adopted by the medical profession.
Invented own operation
Now the operation is used on about five million patients around the world each year and can take as little as 20 minutes to do.
Mr Ridley even had the operation performed on both of his own eyes, several years after developing the surgery.
It led him to joke: "I am the only man to have invented his own operation."
His son, Nicholas Ridley, from Lincolnshire, will unveil the plaque on the wall of the Victorian house where he was born, now known as Little Lebanon.
Consultants from Leicester Royal Infirmary's opthalmic department have been invited to attend.
The honour has been paid for by the Kibworth Improvement Team from a Heritage Lottery Fund grant.
Mr Ridley was awarded a knighthood in 2000, at the age of 93, and his work was featured on a set of Royal Mail stamps honouring great medical breakthroughs in 2010.