Leicestershire County Council proposes PCSO funding cut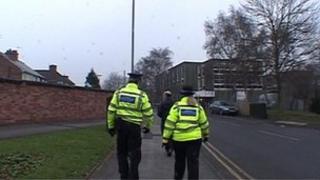 Leicestershire County Council has proposed cutting its funding for Police Community Support Officers (PCSOs).
A cabinet member on the Tory-run council said it was due to a "massive" reduction in government grants.
The £500,000 cost for about 20 PCSOs would be reduced in stages over the next two years, with no financial support at all by 2014.
Leicestershire Police Authority said more pressure would be placed on the force if the plans were approved.
Barry Roper, the authority's chairman, said: "The value of PCSOs to the Leicestershire force is immense and they have proved their worth in so many ways since their introduction."
The 20 officers form a sixth of the county's total. The rest are funded by the police.
'Valuable role'
Byron Rhodes, the council's cabinet member for regulatory services, said PCSOs were important but savings had to be made.
He said: "It's something that's coming about because of the massive reductions in government grants."
Mr Rhodes added that community safety would soon be the responsibility of the new police and crime commissioner, who is due to be elected in November.
Dr Sarah Hill, deputy leader of the council's Liberal Democrat group, said the local authority should continue to fund the PCSOs, even at the expense of other services.
"They have a valuable role in the community helping the police," she said.
"They're around the community more than police officers because they don't change, and are not extracted, and they have the links with people."
The council will decide on Wednesday whether to back the plans.