Leicester City Council defends CCTV usage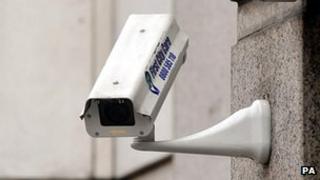 Leicester City Council has defended its use of about 2,000 CCTV cameras, the highest in the country.
Civil rights group Big Brother Watch said Leicester had more council-controlled CCTV than any other city, three times as many as Manchester.
The council said the number included cameras inside museums and schools and not just in public spaces.
The city's assistant mayor said attacks had also been reduced in one part of Leicester due to CCTV.
Big Brother Watch, which used figures released under the Freedom of Information Act, said Leicester City Council had 2,083 CCTV cameras and spent £4.7m over four years.
Sarah Russell, assistant mayor at Leicester City Council, said: "They're used for our area traffic management which we've had in place longer than most cities, going back to 1975, so we've built up a number of cameras over a long period.
Sexual attacks
"They are also done to protect public property like museums and schools so when people aren't there you can monitor them remotely."
Nick Pickles, the director of Big Brother Watch, said Leicester, in particular, rushed into putting up cameras.
"There has been a rush to install CCTV cameras without anyone stopping to say are the cameras affective and have we seen any reduction in crime where other authorities have installed lots of cameras?"
Ms Russell said cameras had reduced attacks in the Great Central Way in Leicester city centre.
"Seven or eight years ago we had a spate very serious sexual attacks," she said.
"After a local campaign we managed to get CCTV installed and it's had a huge impact on people's feelings of safety."
Big Brother Watch's figures were released under the Freedom of Information Act from 428 local authorities across Britain.
It said councils spent more than £500m installing and operating CCTV cameras over the last four years.