Family of Fiona Pilkington settle claim against police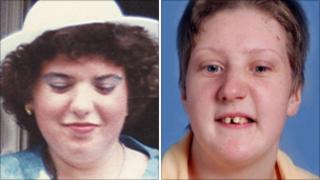 Relatives of a woman who killed herself and her disabled daughter after repeated harassment have settled a claim against Leicestershire Police.
An action brought by Fiona Pilkington's mother and Francecca Hardwick's brother, himself a vulnerable adult, has been settled by a five-figure sum.
The mother and daughter died in 2007 when Ms Pilkington set fire to her car.
They had complained to police 33 times after being harassed by youths in their home near Hinckley.
The family's solicitor, Jocelyn Cockburn, said: "It was important for the family to achieve justice after going through a horrendous few years following the deaths of Fiona Pilkington and Francecca and it has given them a modicum of financial security going forward.
"The case also had enormous public interest because of public concern about the treatment of vulnerable and disabled people in society and the case dealt with what duties the police have to protect people like Fiona and her family from anti-social behaviour and hate crime."
'Organisational' failings
A report by the Independent Police Complaints Commission found that the force had failed to identify Ms Pilkington and her daughter as vulnerable.
Over the course of 10 years, Ms Pilkington's home in Barwell was repeatedly targeted by groups of up to 16 youngsters, with stones, eggs and flour thrown at the house.
On one occasion, Francecca was told to lift up her night-dress, while her brother Anthony was locked in a shed at knifepoint.
Ms Pilkington reported the incidents, as well as keeping a detailed log, but in total received only eight visits from officers.
Four Leicestershire police officers were cleared of misconduct after internal hearings were held by the force.
Speaking after its hearings, Dave Evans, Deputy Chief Constable of Leicestershire Police, said the failings were of "an organisational nature due to the systems and processes in place at the time".
Chief Constable Simon Cole confirmed that the civil claim had now been settled out of court, but said this had been done "without admission of liability".
"This is a tragic case and I felt that it was the right thing to do to, for everyone concerned, to draw a line under the litigation," he said.
"Since the sad events in October 2007 the force has made significant changes to the way anti-social behaviour is dealt with and the way in which vulnerability is identified to ensure that the right support is given."