Rik Basra campaign leads to Anthony Nolan donor numbers record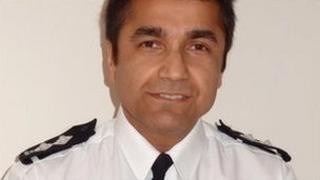 A campaign to save the life of a police officer with leukaemia has led to a record number of Asian people joining a blood stem cell register.
Leicestershire Police urged young Asian men to join the Anthony Nolan register to help find a donor match for Insp Rik Basra.
A match was found in Germany and Insp Basra had a transplant in December.
However his family continued their campaign to recruit donors, and about 1,000 Asian people have signed up.
Insp Basra's wife, Kas Basra, said they wanted to tackle a shortage of donors from Asian communities.
"It's a fantastic feeling in terms of what we've achieved in collaboration with Anthony Nolan and a whole number of volunteers, but there is a lot of work to be done and this has given us the foundation to build upon."
Insp Basra received his stem cell transplant on Christmas Eve and is waiting to see if the treatment has been successful.
His acute myeloid leukaemia previously returned after two years in remission.
Matches less likely
The Anthony Nolan charity prioritises recruiting male donors because men can generally provide a greater volume of blood stem cells.
There is a shortage of donors from ethnic minority backgrounds.
As a result, the charity estimates that people from ethnic minority backgrounds have only a 40% chance of finding a match, compared to 90% for people of a white northern European background.
More than 446,000 people are on the charity's stem cell register but only 18,000 - 4% - define themselves as Asian.
The Rik Basra Campaign has recruited about 1,000 Asian donors over the past six months, a 300% increase on the previous period.
Donors were recruited online and through events in Leicester and Birmingham.
You can hear more on this story on Asian Network Reports at 12:30 and 6pm.