Scraptoft Hall fishery 'has reduced vandalism'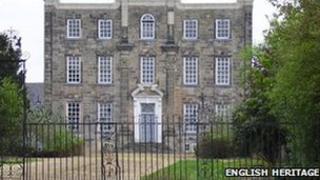 It is thought the introduction of fishing on the site of an 18th Century Leicestershire mansion has led to a decline in incidents of vandalism.
Scraptoft Hall has stood empty for several years and has been the target of trespassers and arsonists.
But organisers of a fishery, which opened in September, have said their presence has caused a dramatic decrease in the number of people breaking in.
The Grade II listed building is owned by a property developer.
Chairman of Scraptoft Parish Council, Peter Elliot, said: "It's done very well, it has stopped a lot of the vandalism, and there were people starting fires.
"So we have gone through a quiet patch and hopefully this will continue through the summer."
Owners AMK Planning were awarded planning permission for 103 retirement homes last year but work was put on hold due to a lack of funding.
English Heritage lost an appeal against the development of the site.