Leicester train station temporary taxi rank 'unsafe'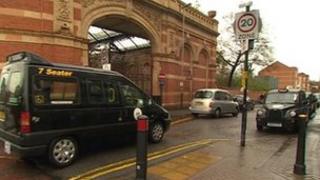 Taxi drivers have said a temporary rank for Leicester railway station is unsafe and causing them to lose money.
Drivers are currently waiting for passengers outside the station during its £3.5m revamp.
Network Rail said the move, approved by council officers, had to be made because unexpected lifting of the station forecourt had been required.
Leicester City Council said this meant it did not get enough time to make "plans for a safer alternative".
The refurbishment will see half of the train station's forecourt pedestrianised along with improvements to the booking office, platforms and footbridge.
During the work taxi drivers were initially based inside the building on Station Street, but were later relocated outside to Conduit Street.
'Not satisfactory'
The drivers said turning around on a busy road was unsafe and they were losing hundreds of pounds a week in fares because passengers did not know where the taxis were waiting.
Network Rail said it had not initially envisaged lifting the ground in front of the station at the start of the redevelopment.
"As part of the ongoing work to improve Leicester station we have had to restrict access to the taxi rank for a period of time," a spokesperson said.
"Taxi drivers were informed of this in advance and we have worked with the Leicester City Council highways department to put in place alternative arrangements.
"The taxis will be displaced for 6 to 10 weeks. As soon as the new vehicle area is complete the taxi rank will move into their permanent area."
In a statement, the city council said it had not been made aware of the arrangements to move the drivers, before the work got under way.
"The drivers had originally expected there to be pedestrian access from the station to Conduit Street, but this became impossible because of the position of scaffolding inside the station," it said.
"After meeting with Network Rail and the taxi drivers, we agreed the continued use of the existing feeder rank in Conduit Street as a taxi rank, which isn't satisfactory, but we weren't forewarned in enough time to make adequate plans for a safer alternative."
Leicester City mayor Sir Peter Soulsby agreed the situation on Conduit Street, with queues of taxis and cabs making three-point turns, was "not safe or satisfactory".
"This move should have been properly planned in agreement with the drivers before the scheme began," he said.
Sir Peter added he hoped a "safe and acceptable solution", agreed with the taxi drivers, Network Rail and the city council, could be made soon.