Leicestershire County Council's David Parsons survives vote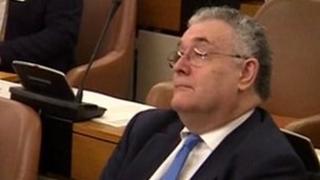 The Conservative leader of Leicestershire County Council has survived a vote of no confidence.
The authority's Labour group called a meeting to vote on whether to remove David Parsons in light of revelations regarding the cost of his activities.
He was accused of abusing his position by being taken in the council's chauffeur driven car to Tory events.
A Freedom of Information (FOI) request revealed overall journeys in the car cost more than £200,000.
The party's majority ensured Mr Parson's position as leader.
He said: "I'm very happy we've trounced the opposition. This was purely a political affair and now we can get on and run Leicestershire."
Labour group leader Max Hunt said: "Everybody is disgusted with the behaviour of David over the last few years.
"It is a disgrace but its affected the whole county and local government in general. So we are determined to put a stop to it."
In February, Mr Parsons was accused of not promptly repaying money that he owed for trips to Europe.
Mr Parsons denied any wrongdoing and said all the debts relating to trips abroad have now been paid.
A separate independent investigation into some of the councillor's earlier expenses will report in May.