Experts probe cause of two Leicester factory fires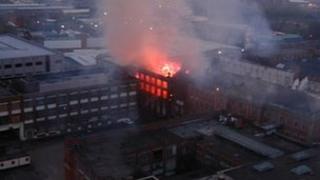 Fire and police investigators are continuing to probe fires at two factories in Leicester.
The former Corah factory on St John's Street and a knitwear production factory on Frisby Road were both hit by fire on Saturday.
Matthew Cane from Leicestershire Fire Service said bringing the Frisby Road fire under control was "challenging" as it had spread rapidly to the roof.
A police spokesman said the two fires were not being linked at this stage.
Residents in the area of both fires were told to close their windows.
Police closed several streets in the area of the Corah factory blaze as thick smoke and ash confronted firefighters.
Fire investigators have called in a specialist sniffer dog from Derbyshire which is trained to search for traces of fuel or other chemicals.
There were no reports of injuries at either fire, but both buildings were badly damaged.